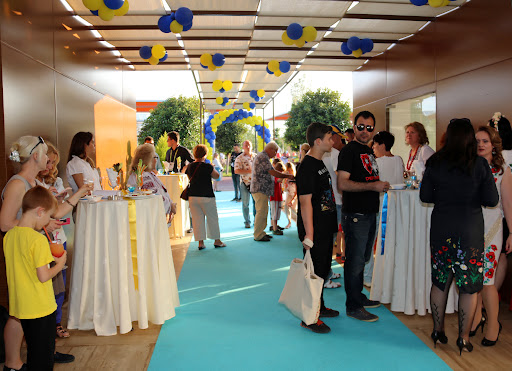 " Ukrainian garden" was opened with a ceremony in EXPO 2016 Antalya .
According to the written statement made by EXPO 2016 Antalya Agency, a ceremony was held for the opening of the garden, which was prepared with the concept of Odessa beach of Ukraine , one of the Eastern European countries .
Speaking at the opening, Ukraine's General Commissioner Semeka Larisa stated that they are happy to be in EXPO 2016 Antalya .
Stressing that Ukraine is a very positive country, Larisa said, "We tried to reflect this in our country garden. We want to be friends and fellows with everyone. Therefore, we invite everyone to our country garden." said.
Stating that there are many flowers in the garden that are suitable for the theme of "flower and child" of EXPO 2016 Antalya , Larisa noted that they also prepare various programs for children.
The Agency's General Commissioner Erdoğan Kök stated that they are happy to have Ukraine join the EXPO 2016 family.
After the members of the protocol cut the opening ribbon, the guests ate the bread dipped in salt for "bounty", in accordance with the Ukrainian tradition.
At the opening, where a music concert was held, the guests wearing the traditional clothes of Ukraine danced to the accompaniment of local tunes.
The ceremony, attended by many Ukrainians living in Antalya, ended with fireworks displays.
– Special orchid from Thailand to EXPO 2016
On the other hand, the pavilion of Thailand , the official participant of EXPO 2016 Antalya , attracts great attention from the visitors with its different concept. Here, orchids grown without soil with the vanda type hybrid technology specially brought from Thailand are exhibited.
The orchid, whose roots grow outside, was produced specially for EXPO 2016 Antalya . The orchid, which lives for an average of 10 years with the suspended spray irrigation system, has the feature of giving flowers continuously without drying out.
www.sondakika.com